The new version of the App Safety QR Code is now available for Android. It is downloadable on Google+ by following the link at the bottom of the article. This version has been simplified, thanks to a new, more intuitive and user-friendly lay-out.
How does Safety App QR Code work?
This application allows you to easily record your message with essential information.
The few necessary steps.
Everything has been studied to minimize the use of technology. This result is obviously the culmination of thorough and extensive studies, including human behavioral analysis.
It has also been rewarded with an international patent, all Italian.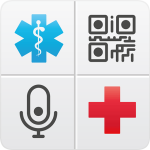 Download it now!
Everything is finally ready for the launch of the new Bollé helmets, which will take place in January 2016.